Are you wondering how all this is relevant to you?
If none of this is relatable, please close the page and don't waste your time here. It is precious and we respect it.
If you relate to any of the above or even nodded your head a bit, kindly read on because it's time to do something.
But what should you be doing?
After all, there are so many people seeking your attention and time with never-ending market updates, meetings, and certifications. Just one more certification (you are made to believe) and your problem will be solved. Except it never does.
Because these are the places to hide. They will give you the comfort of doing something and keeping yourself busy, but they will never drive real meaningful outcomes such as consistently growing your firm or maximizing the value of your firm.

The HappyRich Advisor Community is a Mastery School for Real Financial Professionals with a bias towards Action, Accountability, Progress, Excellence and Mastery.
The community will have one clear objective, i.e. to help you with everything that you need to build the wealth firm of the future.
The biggest differentiator of this community will be that each and every member of the community will have his/her Personal Accountability Coach who will help implement our proprietary AAPEM model.

Action
Everything that will be discussed, shared as written scripts, communication emailers etc. will be relevant and actionable.

Accountability
Your Coach will hold you accountable on a regular basis to ensure that you are doing what you are supposed to be doing.

Progress
Your Coach will review your progress with you and suggest course correction.

Excellence
The focus here will be to help you become world-class. We would love to see you as one of the finest financial professionals not just in India but across the world.

Mastery
We will help in your journey to master this business in the face of all the changes and uncertainty.
HappyRich Resource Library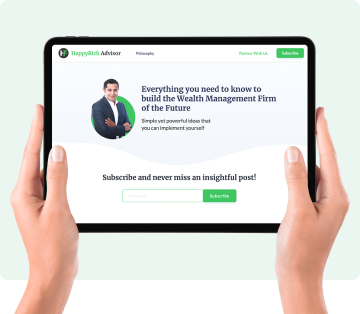 January 6th, 2020
Our founder Amar Pandit launched his HappyRich Advisor Blog to help you build the wealth firm of the future. The mission was to make a real difference in your life by inspiring you to realize your true potential. He is committed to this cause and for the last 3 years, has written to you every Tuesday and Friday (without missing any one of them). In response, many financial professionals have showered him with kindness and love which goes to say that he is indeed making some difference in your lives.
www.happyrichadvisor.com

2021
In 2021, he launched the HappyRich Advisor Book with detailed steps on how to build the wealth firm of the future. Many have called this the Bible of this business and thanked him for bringing out this insightful piece of work.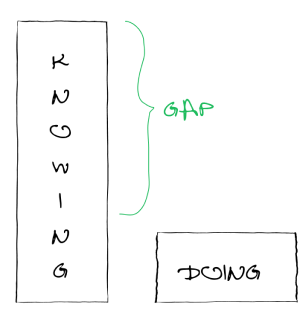 But at the same time, we know that a huge gap exists. There is a Knowing-Doing Gap. And this is a Gap that we hope to address in this community.
This is a business in which many MFD business owners often feel alone, as they don't have consistent support and reliable guidance, which leaves them clueless or confused about:
Whom can they reach out to?
When and how to conduct a meeting with a specific HNI?
How should they approach a prospect in a social setting?
The HRAC has been designed keeping these crucial questions in mind. The focus will be on closing this gap, which, if done, will help you Future-Proof your business.
What does Future-Proofing your business mean?
It means:
Consistently increasing your income

and attracting more ideal clients, especially during challenging times.

Becoming fearless in the face of change

, and learning to adapt and pivot, i.e. adjust to the Covid "new normal", and whatever other "new normals" come in the future!

Achieving excellence and becoming indispensable

by creating a firm that not only serves clients, but also changes their lives for the better.

Building a firm that your clients love

, and while doing this, maximizing the value of your firm.
The goal is to help MFDs become the best version of themselves by holding them accountable for what needs to be done.
What will you get?
A Personal Accountability Coach who will be available whenever you need them
Essential

Premium

Monthly Live Sessions on relevant themes and topics conducted and curated by P.L. Natarajan Iyer, CEO, Happyness Factory
Essential

Premium

Monthly "Ask Amar" Sessions
Essential

Premium

Access to a mobile/web Application for you to watch the live sessions you have missed. Not just this, you can also post questions, get help with anything, and connect with a network of like-minded people
Essential

Premium

Annual License of Client Conversational Tools (Priced at Rs. 35000, Free for the HRAC Members)
Essential

Premium

World-Class Ideas and Thought Leadership with a focus on implementation made available to the community members
Essential

Premium

Quarterly Workshops on key topics, such as valuation, growth and marketing, technology, practice management, and referrals
Essential

Premium

Business Diagnostic Tool: An assessment tool that helps you spot opportunities and maximize the value of your firm.
Essential

Premium

Scripts, Templates and Exclusive Content
Essential

Premium

Invitation to our "Annual Mastermind" Meet, a one-day event specifically curated for you
Essential

Premium

Essentials
Rs.60,000


Rs.10,000


+GST
Premium
Rs.1,20,000

Per Annum
How will the platform operate?
Access to HRAC mobile app and HRC platform. All content of the community will be posted on both platforms.
Community members will get a Zoom Link for the session.
Topic of the session will be shared along with the Zoom Link.
Video recording and session notes will be shared with the community members.
Curated content will be shared with every member.
An Accountability Coach will be assigned to every MFD.