TechFin and FinTech
What do you think is the difference between these 2 words "TechFin and FinTech" or are they one and the same?
Well, they are not.
TechFin's are essentially Big Technology companies who are getting into the financial services space – Apple, Amazon, Google and Facebook to name the major ones.
FinTech's on the other hand utilize technology to enable banking and financial services. However, they are essentially financial services companies first unlike their TechFin counterparts. Examples in our industry /profession are WealthFront, Betterment, Scripbox, PayTm, Groww, Happyness Factory and so on.
FinTech's in our industry/profession are classified as WealthTechs. There are many other categories of FinTech namely in the areas of Insurance (InsurTech), Regulations (RegTech) Payments, Lending, Asset Management, Digital Banking, Personal Finance, Crypto, Capital Markets, Accounting & Finance and a few others.
Similarly, TechFins can also target each and every area of Banking and Financial Services. And they have been making aggressive moves in the banking and financial services space over the last 5-7 years.
While we are all familiar with Google Pay, and WhatsApp Pay, you will be shocked to see some of the moves they have made in the financial services space.
The big Apple recently acquired open banking start up Credit Kudos, which uses bank data to score loan applicants. Not just this, Apple is working on a multiyear strategy to bring more financial services in house, including its own payment processor and infrastructure. Bloomberg reported "The push would turn the company into a bigger force in financial services, building on a line-up that already includes an Apple branded credit card, peer to peer payments, the Wallet app and a mechanism for merchants to accept credit cards from an iPhone. Apple is also working on its own subscription service for hardware and a 'buy now, pay later' feature for Apple Pay transactions.
Have you seen the beautifully designed Apple Card (in partnership with Goldman Sachs)? Not only does the card look solid and beautiful, but the client experience of Apple Pay is simply phenomenal. Android fans and Apple haters – even Google Pay is excellent ☺.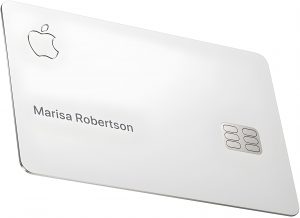 How could Amazon be left behind in all this? Besides credit cards, Amazon is spreading its wings across checking accounts, insurance, payment services and line of credit/loans. According to CB Insights "Amazon Pay on the other hand has evolved to include a digital wallet for customers and a payments network for both online and brick and mortar merchants. Since 2019, Amazon has invested in growing Amazon Pay's marketplace, including forming a partnership with acquiring bank Worldpay."
Not just this, Amazon is the only one among TechFins to get into wealth management in India (No TechFin has yet gone into Wealth Management or the Retail Investing space anywhere in the world) by tying up with Kuvera.
Goldman Sachs and Amazon recently announced an embedded finance offering using Goldman's finance capabilities and Amazon's cloud service. Amazon will not stop here neither will any of the TechFins. The FinTechs in fact will try to be a step ahead of TechFins, so expect the competition to only heat up in the coming years.
TechFins are uniquely positioned to disrupt financial services in a far better way than FinTechs and traditional financial institutions. The key reason for this is that TechFins already have a larger customer base than not only any FinTech but also any bank. The largest private bank in India, HDFC Bank will have anywhere between 4.5-5 Crore customers. Compare this to Amazon's Google's one billion users or Facebook's 2 billion plus accounts.
I can keep writing examples of TechFins as there is so much happening in that space at an exponential pace. So, let's focus on the lessons for all of us.
While there are no TechFins (besides the Amazon tie up in India) yet in Wealth Management (as it's a heavily regulated industry, and due to the nature of personal finance itself), I wouldn't bet on this trend continuing for a long time. Never say never.
Look at the collaboration that is happening even between competition.

Goldman partnering with Apple and Amazon. Headlines earlier were all about how Silicon Valley is going to disrupt Wall Street and get them to the Streets. None of that is really happening while co-opetition (collaboration) is taking place between Big Tech companies and traditional banking/financial services firms.

The client experience of most of these TechFins and some FinTechs is exceptional.
These are 2 types of New Competitors in our industry who didn't even exist a decade ago. They come with loads of capital, technology, and client experience. And in many cases, with millions and billions of users/customers.
What about you? Are you collaborating to make your offerings stronger? Are you collaborating with someone to deliver a far superior value proposition? Are you collaborating to make your client experience amazing? Are you collaborating to build the wealth management firm of the future?
If not, it's time you seriously start doing something about this.