This Change will Future Proof your Business
Many of you wrote to me in response to my last Nano "Chief Change Officer". The most common question was "What do I change?" I have written to each person individually with some questions and will guide them further, but I thought I should further clarify a bit on this subject and highlight a key point (The subject might seem a little vague but I promise you it is interesting and relevant).
Every firm and situation is different. The things that each firm is required to change is dependent on their number of years in the business, team structure, value proposition, number of clients, growth, problems, and many other variables. The 2 things though that need to change for everyone initially are Mindset and the Space you want to operate in. I have already written a column on the space you want to operate in (You should read it again if you do not recollect).
On the Mindset part, there are 3 components and I will write in detail on this in a separate post. Broadly they are the Mindset of a Chief Change Officer, Investing Mindset and Mindset of a Champion.
The effects of not adopting this Mindset is costing every IFA – Ideal Clients, Hundreds of Crores of Assets, Several Crores of Revenue, and many other things. The Sketch below illustrates the point that I am trying to make at a broad level.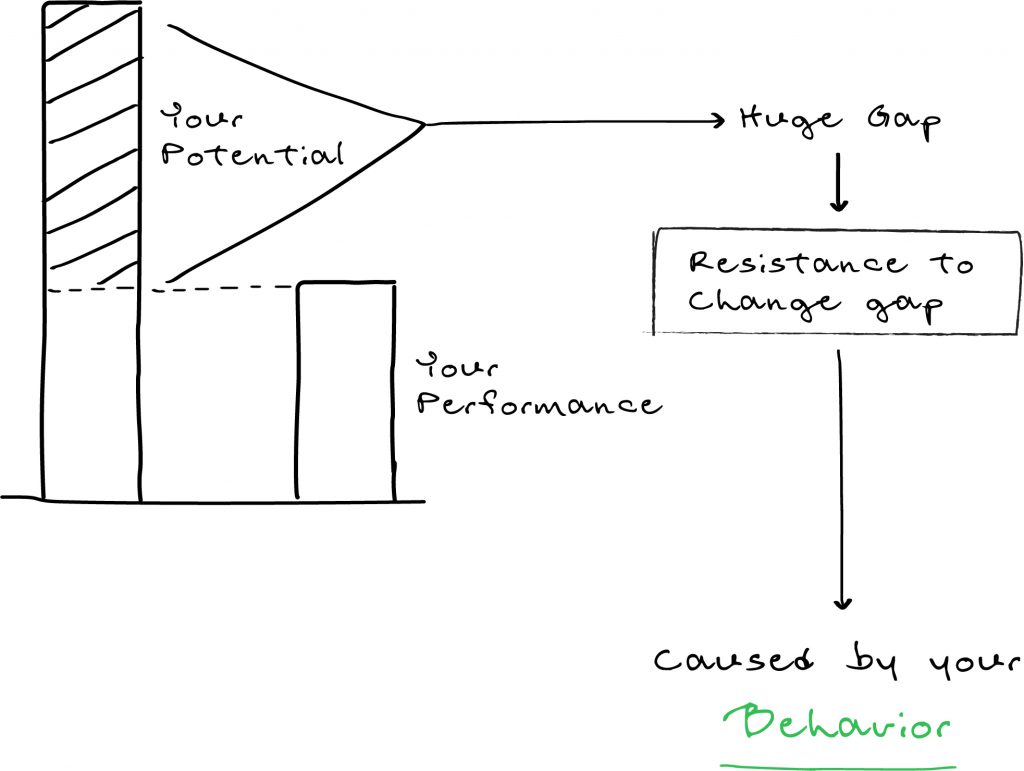 The point is that every IFA has immense potential but is she/he achieving it. No. What's stopping you from realizing your potential are "Lack of Clarity of your Value Proposition and Not Communicating what you really do for them." Thus, it is necessary that you change your value proposition and learn how to communicate this. Many of you might still be delivering that value proposition (and immense value) but you must communicate this well and focus on doing so at an overall business level. Every email you send or your website or your collateral or your words need to reflect this. This is a critical area that you need to change, and you need to demonstrate that.
Before I go further, I am assuming that you have decided to make a happy difference in the lives of your clients and help them live the life they have imagined with their money. The next step for you then is to demonstrate that.
Think about how you are demonstrating this to your clients today. Let us take some examples of firms where they say, "Create Wealth/I will Make you Rich". In the same email or website, they say – Mutual Funds, PMS, and List of all Products. Somewhere on your website or collateral, prospects also see words such as Financial Planning, Wealth Management, Market Commentary, Product Notes and many such things. This might not seem like Greek and Latin to you, but it does to most prospects /clients and confuses the hell out of everyone.
The clients are reading Products, Market Commentary, Market Levels, Fund Manager Interviews, along with Financial Planning and many other things. Somehow, we have been told MORE is Better, but no one has told us LESS is MORE when it comes to Communication (and most things in life). You do not require 100 things to show, you require the 3 that are most powerful and might drive 95% of outcomes for you. Your prospects need to clearly understand what you do for them.
Another website that I looked at says "CFO to every family", and immediately says "Get advice on your mutual fund investments". Further on somewhere it is said that we are different because we are CFPs. There are many gaps on this website and the value proposition is utterly confusing and it looks like a hodgepodge of things. Imagine the plight of the prospect. What do they do when they look at it?
Many other websites I have seen, give market commentaries, fund manager interviews and Market Quotes (along with Gold, Oil and Forex). Seriously, which business are we in? On the other end of the spectrum one of the biggest institutional wealth managers first flashes 100 awards they have won, then uses such confusing words such as scientific, institutional-grade review, all in one pricing with several stars (as disclaimers) and many others. Once again, understand the plight of the prospects.
Ask yourself the following questions:
What is my Offering?

Am I Clear about it?

Am I communicating this well in person?

Is my website, email, marketing collateral reflecting this?

Will clients understand what I really do? Can they differentiate me from competition?
Answer these questions truthfully and make changes accordingly. This is the need of the hour for you as it is costing you Real Clients, Real Business and Respect.
This business is not about ambiguity, but it is about bringing clarity and transforming lives. It is time we all stand up for the millions of people who need us and bring respect to the profession (as it is one of the most important professions).