Unlocking Your Real Potential
The other day, I met an executive (Rahul- name changed) from an asset manager who told me something interesting: "Amar, the news is that Happyness Factory (HF) is buying MFD (mutual fund distributor) firms/businesses. This is what many people think HF does." I told him, "Well, it's true that we are providing unique succession solutions, and investing in (as well as buying) practices/businesses, but this is not the core thing we are doing at HF."
"Well, what do you do then?", asked Rahul with a puzzled look on his face. I was a bit surprised by his question, because I thought we were sharp with our marketing. But I quickly figured some gaps in our communication with distributors.
Rahul was spot on as my colleague Rupesh had recently experienced a version of this. He was recently told by a senior distributor (Madhur- name changed), "I know what you do. I don't want to sell." The best part is this happened even before Rupesh said anything about what we do. Rupesh had simply told Madhur (after exchanging pleasantries), "We love to meet to get to know your work and to share our body of work (including how we are helping other distributors like you). But the perception Madhur had in his mind was that HF is in the business of only buying firms out.
Rupesh in his mind protested, "Respectfully Sir, you do not know what we do…else if you really knew and understood, we would be talking."  This post is then for Madhur and everyone else (including you) who probably do not know what we really do (and how we are different). I know Madhur reads my posts regularly and I hope he does this one too.
In this post, I explain what we really do (with as few words as possible), why we do it and how we do it in a way that no one else in this world does. I am not saying this for the sake of saying this. I mean every word of this; I am even willing to stick my neck out with a challenge. Here it goes- If you can show me another firm that does what we do with the same level of genuine care, there is an Apple iPhone 15 Pro waiting for you. I am not joking about the iPhone. I am serious. There is an iPhone 15 Pro waiting for anyone who can show that there is a firm like us offering similar value. That firm doesn't even have to be better; just similar is good enough.
Now back to Rahul's question – What do you do then?
In very simple words, we built (and continue to build) an ecosystem of offerings to help MFDs grow their business…to help MFDs become better CEOs…to help MFDs build (and maximize) enterprise value…to help MFDs deliver a world class client experience…to help MFDs modernize (and future proof) their firms…to help MFDs protect all their hard work should something happen to them (through a unique Business Life Insurance Program).
To achieve all of this, we assembled a team of amazing people who have built an advanced single sign on (integrated) consumer and practice management platform in the world. In short, we built the digital wealth infrastructure of the future for financial professionals to run their business and to deliver a world class experience to their customers. The best part is that such an advanced offering is not available to the biggest financial institutions even in developed markets but is now available to MFDs (and that includes you) in India.
And by the way we provide personalized succession planning solutions. We provide business life insurance, and we buy firms too.
But buying firms is not at the heart of what we do. Our goal is to help distributors and financial professionals flourish, and that means we want them to continue for as long as they want to on their terms and after them, we will even help their legal heirs who are interested in this business to succeed their parent(s) Buying a business happens only when someone wants to sell and only when there is a strategic fit. Period. It's not something that we obsess about.
So, what do we obsess about?
Excellence…We obsess about building world class products…We obsess about being the best at taking care of you and your clients…We obsess about learning and innovation… We obsess about making a happy difference in your life…We obsess about collaboration and creating a bigger pie for your investor, you, asset manager, and us…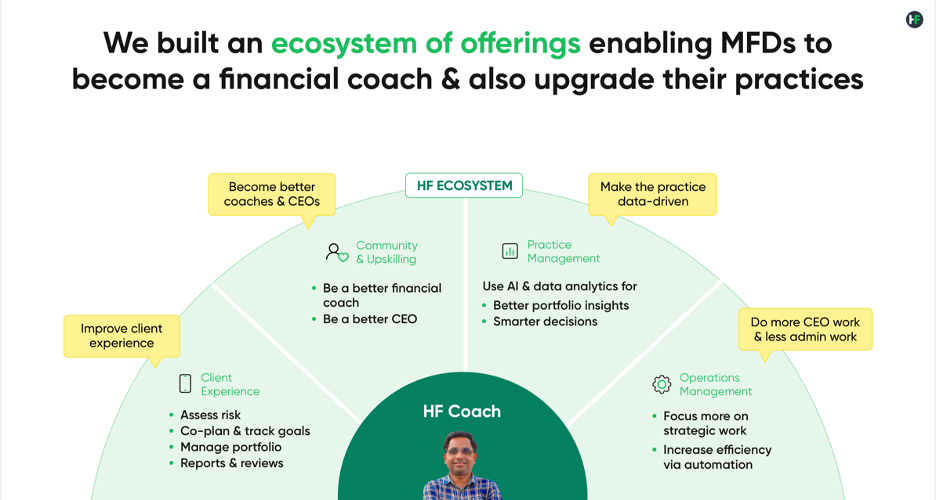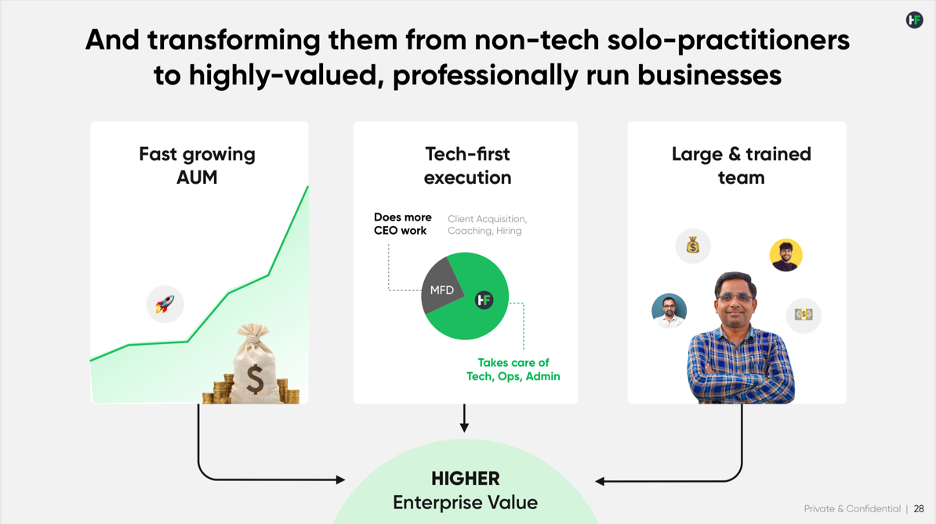 At the core of what we do, we provide financial professionals with a modern value proposition, growth strategy, marketing, sales help (in acquiring customers), consulting, client experience, an integrated technology stack, processes, operations, ongoing education, and most importantly genuine caring people.
To give an example, we go on sales calls with our partners and help them close a client. In most cases, the majority of the revenue goes to the partner. Who does that? Do you know of any firm that goes on a sales call with you, signs up the client and then gives you most of the revenue? I can't think of a single firm doing this. And when I say, signing up a client does not mean selling a product to someone. Signing up means getting 100% of the client's share of heart and wallet. A couple of examples: We helped a partner in Pune get a client, who invested Rs.5.5 Crore…We helped another distributor partner in Mumbai sign up a Rs.8 Crore client…We helped another one sign up a CEO of a firm who started with a SIP of 7 Lakh and a one-time investment of Rs.3 Crore…There are countless such examples…We are now helping a partner sign up a CEO of a firm, who has  a portfolio of Rs.29 Crore.
To cite a few more, we mine your data, identify hidden opportunities within the existing client base and help you execute on each of these opportunities.
For example, we look at your referral analytics and then figure out a way to increase the number of ideal prospect referrals.
We offer very specific tactics and conversational scripts for you to implement.
I can go on and on, but I believe you get the point. We give generously in terms of our time, attention, energy, and go in the trenches with you. And we do this from a mindset of abundance.
We have one simple goal – to help you become the best version of yourself, to bridge the gap between what you are capable of and where you are currently.
As coach John Wooden said, "Do not let what you cannot do interfere with what you can do."
We don't know who we are until we see what we can do – Martha Grimes
One of the greatest discoveries a man makes, one of his greatest surprises, is to find he can do what he was afraid he couldn't do – Henry Ford
We are there to help you with this discovery, my friend, to unlock your real potential.