2 Hours Quality Conversation > 13 years of Transactional Relationship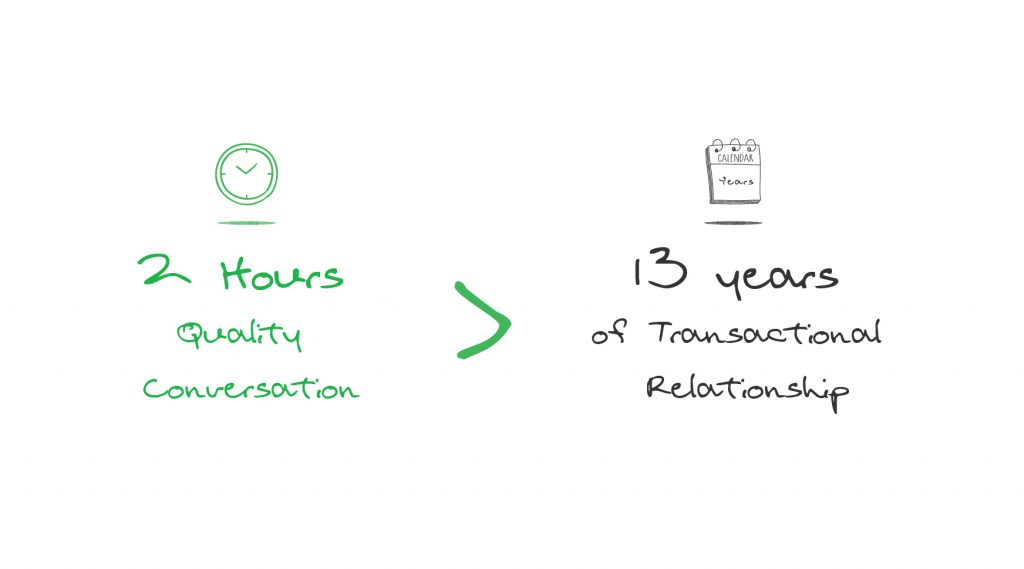 How many of you believe this to be true?
Well I can Guarantee that it is.
An IFA from Bengaluru got an experience of his lifetime when he acquired a new client (virtually) with a fantastic 2-hour conversation (not to mention the Client Experience). This client was with an IFA for almost 13 years, but all the previous IFA had done was providing access to products and managing assets.
Remember this business is not about managing assets, it is about managing people. Your client is not a Number to be defined in AUM. He/she is a living /breathing person with dreams, aspirations, goals, and a purpose. Like we used to have in school where the teacher would take our attendance with a roll number, do you address your clients (even within the team) like AUM 5 Crore or AUM 50 Lakh. I am sure you would not.
The best is that the client called his previous IFA and told him to start doing what his new IFA was doing. He said "I have never experienced anything like this. For the first time in 13 years, I am clear about "How much is Enough?", whether I am doing ok , what do I need to do to get on track and most importantly that I can quit what I was doing and pursue my passion project. I can tell you this is what most of your clients will value and love, so meet this guy."
However, this previous IFA went into a Resentment MODE and did not figure out what was really happening. We all have choices to make "Learn from what's happening and Change OR Let the Termite of "Status Quo" EAT what you have built so far."
The Choice is Yours. Only You have the Power to Transform your Business and your Life, but it first starts with YOU.