The Grand Inversion
Though I knew this concept intuitively (as the design of the HF ecosystem has been based on this one), I found a fancy name for it when Mike Sha, Founder – SigFig (a US WeathTech Firm) explained the "The Grand Inversion" concept in a virtual FinTech event.
What is "The Grand Inversion", you may wonder?
Though it's a deep insight (because very few people seem to grasp this), the concept is fairly simple. Here it goes.
The entire financial services industry has been built on a physical first experience right from the way you open accounts, interact with bankers, relationship managers, financial professionals to even closing the accounts including everything in between. Remember the good old days of filling up forms whether in banks or in our industry. By the way, paperwork still exists for many in the financial services space. Don't believe me. Go take a loan and the number of documents you have to sign is not funny. How about closing a loan? The experience is even more frustrating.
On the other hand, digital has emerged in the last 15 odd years as a secondary channel. It's a place where you can check your accounts, make some payments, order check books and so on. In short, you can conduct simple self-service activities (transactional in nature) on the digital side. The digital was considered to be a supplemental part of the core experience.
However, this has begun to change now (and will more so in the future) and this is exactly what the grand inversion is – the digital experience will become the core experience and will be supplemented by some sort of physical or in-person experience. Thus, you need to not look at digital not as a channel but as a way of serving your customers.
Imagine a world where the digital first experience is the way the world works.
What does this grand inversion then change for you?
Does it change the way you onboard clients?
Does it change the way to deal with a client in a different city or country?
Does that change the technology your team has access to and how they interact with your clients?
Does that bring a change in the business model metrics and valuation of the firm for you?
Will the overall client experience be far more superior?
Will this improve your communication with clients?
The answers to the above 6 and many other questions are a clear YES.
Thus, the key question then is how do you model or redesign your entire client experience?
One of the most important things in addressing this grand inversion is to change our mindset in terms of not thinking of digital as a self-service channel or transactions or operations.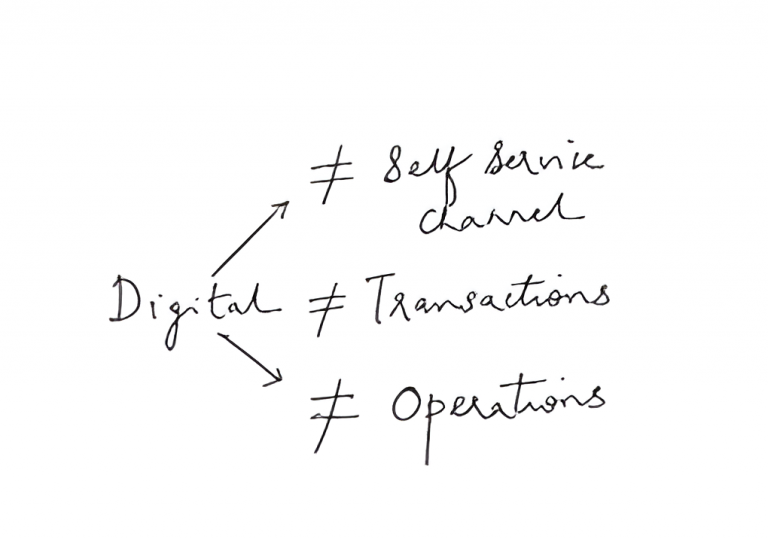 We need to think of digital as the place to have better interactions with our clients and prospects. For us at HF, digital is a place to be truly world class in terms of having amazing experiences with our partners and allowing them in turn to have amazing ones with their clients.
The key thing that needs to be addressed is this – How do we make the care and guidance of a real financial professional just as rich remotely? How do you form strong connections remotely and in a global environment?
All of the above can then be supplemented with a physical experience. Thus, it will also be important to figure out the activities that are a part of the physical experience.
The firms that manage to do this will be able to serve clients across different levels of wealth and be able to build a real-world class business. This is the need of the hour, but most FinTechs or TechFins are doing it in a very transactional and rudimentary way. And they are already paying the price for this strategic mistake.
On the other hand, if you focus on taking advantage of this grand inversion, you would have laid the foundation for building an amazing business. Yes, it's hard work and therefore only a few will do this. The Classic Knowing-Doing Gap will be at play here. Those who manage to overcome this gap would have built the firm of the 21st century (not to mention contribute to building a HappyRich India).
The question is "Are you ready to build one?"
We are. And We are eager to support future looking professionals like you.