Promise and Expectations
As we know, Trust and Truth are the 2 pillars of our industry and profession. All the work we do is based on the foundation of trust and truth. Maintaining a lifetime of trust with a client means you have to master these 2 things and at the same time understand the difference between both.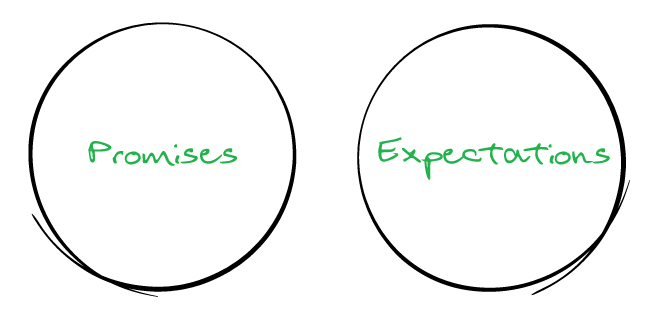 A promise is a commitment that you have made to yourself or to another person /team/organization. 
Let's take this in the context of your prospects and clients.
What are the promises that you have made to them? Some examples of what people use.
I will get the best product for you

I will beat the market or maximize your returns

I will get you out of the market before it falls and then get you back right in

I will help you live the life you have imagined with your money
It can be as simple as this. "I will respond to your email within 2 hours. Or We are there 24*7 for you."
It's super important for you to keep your promises.
Expectations on the other hand are different.
An expectation is a belief you have placed on yourself, or others have placed on you. There is no verbal or written communication that has happened. 
While you might not have said this "I will take you out of the stock market before it falls", a client can nevertheless come to expect this.
It can also be something simple like this: "Why don't you pick my phone when I call?" Unless you have made a promise that you will pick up the call when someone calls, it is an expectation.
Your success depends on maintaining the trust of your clients over several decades and even across generations.
It all boils down to this.
Deliver on your Promises.

Remember the cliché but powerful line – Under Promise and Overdeliver.

Understand the Expectations clearly and do one of the following:

a. If the expectations are unreasonable (or are something you cannot promise), say NO clearly and excuse yourself.

b. Convert Expectations into a Promise.
Finally, the value you create and the type of clients you work with is simply a function of promises and expectations. Make sure you nail these well.