This is 1 Realization that can transform your Life and Business
I am sure some of you would know the realization that I may be talking about, but I am not sure if you understand how powerful this can be for your life and business (if you implement this with hard work and patience). Let me not keep this a secret and straightaway get into it. The realization that you need to have (at a deep level where you feel motivated to act) is the following – "This is the Best Time for getting Clients Onboard and it comes once every 7-12 years." I will explain this in detail and make an extremely strong case for you to believe in this.
The last time you got this opportunity was in 2008-2011 and this time it is 2020-2022.
Why do I say this? There are many reasons but let me share a few of them.
In good to great times (2005-2007), it is easy for anyone and everyone to get clients. I know of many people who used to flash performance (many still do) and get clients easily on board. We were struggling to get people to focus on what is important to them (which was their financial life of course).  We were struggling to get the concepts of risk management, financial planning, diversification, and asset allocation across to people. I have seen really incompetent and mediocre folks distributing flyers in 2007 demonstrating how a specific ULIP had delivered 48% p.a. for 5 years from 2002-2007 and that one can conservatively expect 24% p.a. for the next 5 years. This gentleman had given 3 columns with a 18% ,24% and 36% p.a. returns calculation. I am sure many believed this bullshit. Nevertheless, we kept doing what we were doing, struggling but doing the hard work of getting better every day and delivering a world class financial planning experience (even though financial planning was in a nascent stage in the country) to people.



Things did not change for us till 2008 but post Lehman Brothers collapse, people could resonate with what we were talking about. Everyone who was touting returns were no where to be seen. Yes, there was fear for a few months where decision making was paralyzed but despite this, we signed up our best clients in this phase. This is because people could differentiate between an outstanding value proposition and a mediocre performance, product, market & economy based one (PPME). Instead we focused on Life, Planning, Goals, Experience and Behaviour (what I call as LPGEB) and people could experience the real difference.



In easy times, there is too much noise and thus too much competition. We have all heard of limousine schemes to 100 other nonsensical things going on. Everyone is vying for your prospect or client's attention.  The competition also comes from different industries (Limousine Car investment options), different countries and fraudsters who come out with too good to be true offers. In tough times, all the weaker hands have disappeared. This is an outstanding time to shine and present your best self and offer a real value proposition. If you go with a product value proposition or even a market related one (saying how good your proposition is when back tested), you would not find the level of success you deserve (and you would have dug your grave to demonstrate market beating or related performance soon). An outstanding value proposition focuses on getting clients to focus on what is important to them through a client experience that touches a client's family. In my previous column, I spoke about how Ramesh managed to get his friend Aakash on board as a client through a wow client experience. Ramesh was trying to get him on board for 3 years and no kind of marketing will ever make this possible. Thus, remember a strong value proposition (with an ability to deliver it) and an amazing client experience are your real marketing strategies.

 

Prospects are open to listening to a different perspective

(some people might be scared and shut themselves down but there are many who are open to listening) and you have a real opportunity to meaningfully engage with them. Additionally, many have not even heard from their advisors and distributors.

 

The best thing is that this time, people have time

.

The busiest of the busiest have time to listen to you, attend webinars, and read content. Many IFAs who were not able to reach people earlier are able to connect with people. Many were able to reach out to the busiest surgeons, business owners, celebrities, and others. A celebrity told an IFA "I was looking out for someone to help me with this. I was really not sure where to go but thank God, my friend connected me to you

".  Do not be surprised. It is true but you got to do the hard work. You cannot just sit, complain (to yourself: the inner voice is dangerous) and say it's not working. 
Look at this table and digest it carefully.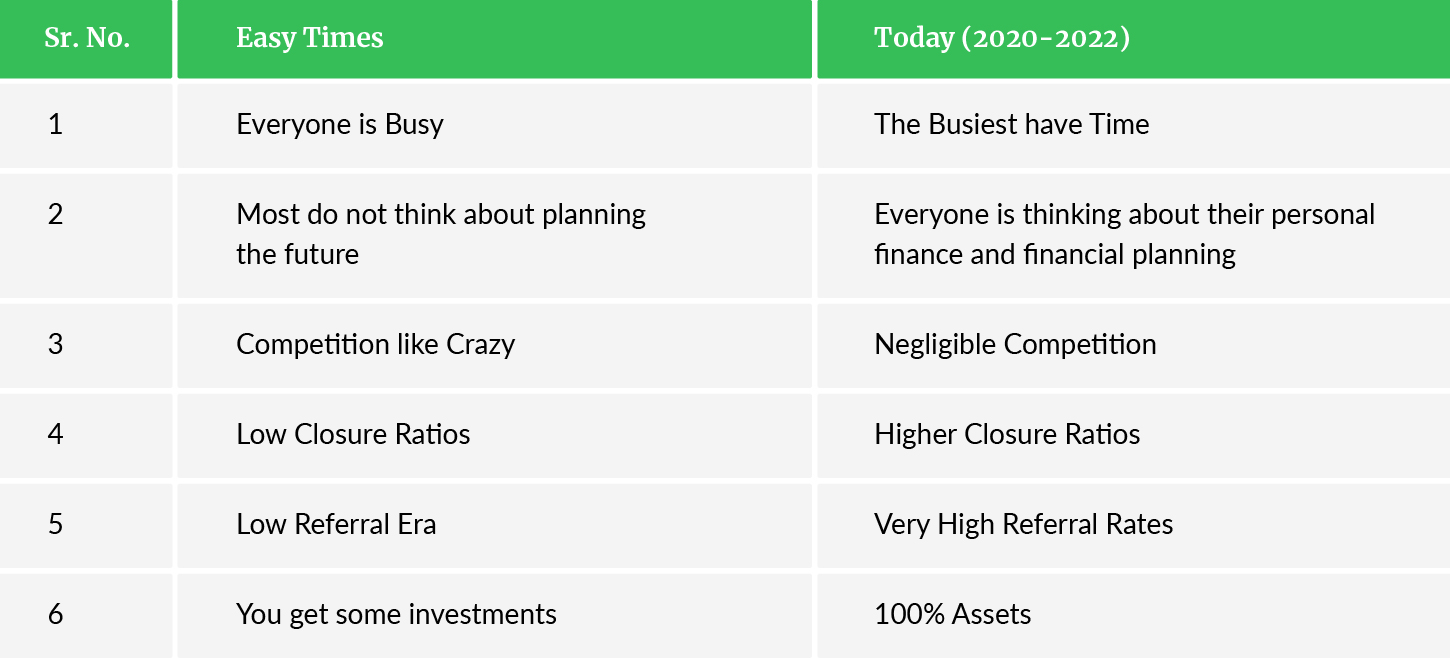 The stage is set for you to outperform. It is your time to show up and shine. Whatever you do or not do now will determine the fate of your firm over the next 5-10 years. Do not say "I was not given an opportunity". You have been given the opportunity of your lifetime, so make the most of it by Learning, Practicing (Implementing it) and Mastering (Refining and Implementing it further) the Skills that will make you HappyRich (hint: in my last nano, I have given some of the skills that you will need).
P.S. People love guarantees. So, I guarantee you that this can be your best time provided you do what you are supposed to do. Let me know if you need any help or guidance and we are happy to help. Even after this if you believe it's not possible, then I can only say "you are right – you have lost the battle even before you have fought it."